Below are my notes and information from the SMD Meeting last June 29 at the Woodridge Library. Check out my Meetings page to learn about upcoming meetings.
Chuck Brown Park
The big news from the meeting came from the DGS and DPR presenters who said the concept of the Chuck Brown memorial as an amphitheater has been scraped and the memorial will now be a plaza. When this was announced, the meeting broke out in applause! The current designs include a statue and information about Chuck Brown's life and legacy. They call for a human-scale wall that will include his discography and images. Both designs also included a statue of Chuck Brown, which would require a different process, but one they expect to include.
The designs can be viewed just below here. If you click all the way through the presentation, there is a way to give feedback on the designs on the last slide. DC Government is giving people until Friday, July 12 to comment online. I will also be holding a meeting on Thursday, July 11 (7pm, at the Langdon Rec Center) where I will collect feedback that I can pass along to the DC Government.

Chuck Brown – Concept Design Options
The response at the meeting was overwhelmingly positive to the new direction. The one thing to note is the plaza is likely to move forward without the statue at first, but only because building statues on public land requires a different process than building a plaza or building. Essentially, building a statue on public land has to go through the Arts Commission and that process will take a couple years to produce a statue. In the meantime they'll go ahead with the rest and add the statue when it's done.
RiverSmart Homes improves our water while making your property look nice!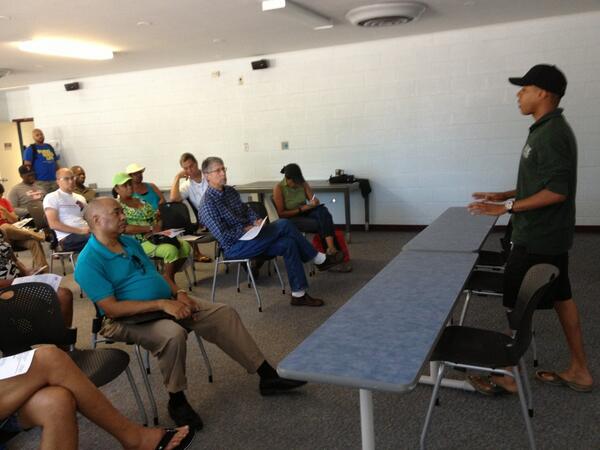 We also heard from Kevin Jeffery of DC Department of the Environment talking about the great program DC government offers to help restore our watershed and rivers by fixing up residents landscaping and water run-off. It's called DC RiverSmart Homes and they'll come out and set you up with (ie install) rain barrels, trees, landscaping (on sloped area), and impervious pavers (driveways/patios). They will come out and walk your property with you and tell you what you are eligible for. You tell them what you want and what you don't, pay a relatively small copay and they have experts install it all. And they are focused on our area in part because we have relatively low participation, but we have an important ancestral creek in our neighborhood. Hickey Run flows underneath Langdon Park, under the Langdon and Gateway neighborhoods and eventually into a natural creek in the National Arboretum before flowing into the Anacostia. We have to clean this up in order to clean up the Anacostia and Potomac, and it starts in our yards!
Friends of Rhode Island Ave Update and Fall Fest coming Oct 5
Kyle Todd of Friends of Rhode Island Ave NE reported that WMATA is doing a study of the Rhode Island Avenue/Baltimore Ave corridor. There will be meetings about this coming up in the late summer or fall and there.
Kyle also reported that Saturday, October 5 is the second annual Rhode Island Avenue Fall Fest. Building on the success of the such event last fall, Friends of Rhode Island Avenue is seeking volunteers and vendors for this year's Fall Fest, which will take place on the sidewalks of Rhode Island Avenue between 20th Street and South Dakota. Check it out and get involved: www.FriendsofRIA.org/FallFest
Metro Police Department Update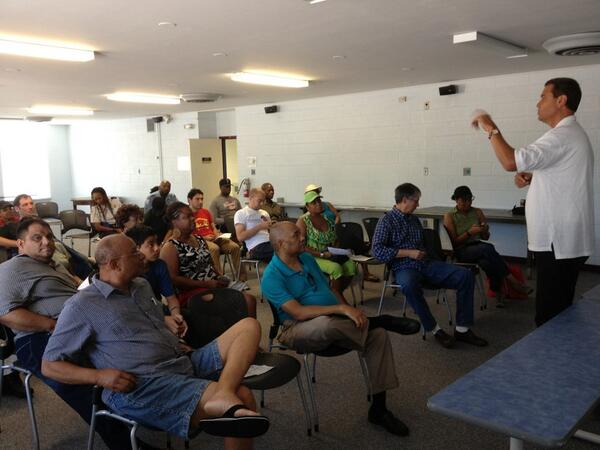 We had a great update from the 5th District Commander Andrew Solberg as well as Sft. George Gray and Lt. Vanessa Moore. Residents raised concerns about loitering and other illegal activity taking place in Langdon Park and police said they would keep an eye out.
Langdon Park Improvements
Since last winter there has been discussed some amount of money that is allocated to be used for simple capital improvements in Langdon Park. This included things like signage, benches, trash cans, lighting, and a water source for the newly improved 9/11 Memorial Grove.
Understandably some of this took a back seat until the Chuck Brown Amphitheater could be resolved. At this meeting we were told that some of the new items for Langdon Park were beginning to be ordered, but also that we should have a meeting in the near future to discuss these items. So I'm pushing to get that meeting set.
The final issue with Langdon Park is the location of the horseshoe pit. Some neighbors complain about the playing of horseshoes at all hours and others complain about the loiterers who aren't necessarily there to play horseshoes. At the same time, there is a vibrant group of people who are there to play horseshoes and deserve the ability to do so. I will be trying to address the longterm location of the horseshoe pit as we address the other park improvements.